XL light material bucket is a large capacity bucket, and most suitable for Avant 600 and 700 series. Its intended for loading and transporting of light materials like wood chips, mulch, snow etc. There are no reinforcement plates inside the bucket which would interfere when loading and emptying, and the sides open forward in a slight angle, which guarantees easy and complete emptying of all kinds of materials and in difficult conditions.
They come in two sizes:
1600 mm
1800 mm
This bucket is suitable from 300 Series to 700 Series.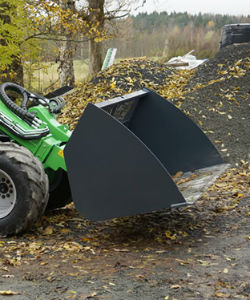 Your recently viewed products:
"Sorry no products found"