Avant 520 loader is one of the most versatile medium sized loaders and its compact dimensions and agile movement allow working in a large variety of environments. Due to the articulated structure of the machine the fuel consumption and tire wear is minimal.
The maximum telescopic lifting height is 2790mm and load control is up to 800kg. Avant 520 is a superior in its class and able to cope with tasks usually performed by a fork lift, truck or tractor. Quick attach system makes changing of attachments very fast and effortless.
The operating characteristics, power and user friendliness of the 500 will meet all your working requirements.

Gas-powered 525 loader is also available!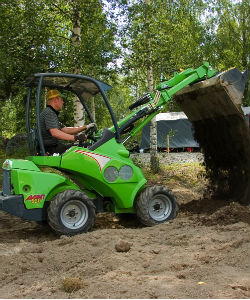 Your recently viewed products:
"Sorry no products found"