The largest loader in the Avant range is the 760i 4WD loader with a 57hp diesel engine and low fuel consumption easily handle jobs usually performed using a digger, fork lift or tractor including hedge cutting, mowing, leveling and shifting bulky, heavy loads and much more. It is also the fastest model of Avant loaders allowing them to compete with bigger machines and giving both high drive speed and high pulling force at once.
A load sensor and ROPS-accepted safety canopy is fitted as standard to the Avant 760i and provides an audible warning if the rear wheels are about to lift off the ground giving the operator more time to react in unstable situations. Product development with Avant 760i has been strongly focused on to the lifting capacity. Larger outside dimensions naturally give better balance to the lifting weight. The lifting capacity with this loader is 35% better than in the previous model. This is how the larger dimensions are fully utilized. Working with the machine is very easy and logical. Cockpit ergonomics is well thought out and all controls are well positioned. Quick attach system makes changing of attachments very fast and easy allowing to mount either on the front of the machine or on the rear adding to the performance of the machine considerably.
Turn your most unpleasant tasks into enjoyable with AVANT!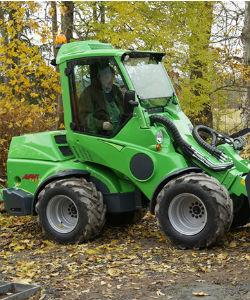 Your recently viewed products:
"Sorry no products found"