Avant 750 4WD loaders with a 49hp diesel engine is part of Avants biggest 700 Series loaders. It provides you with low fuel consumption and is able to easily handle jobs usually performed using a digger, fork lift or tractor including hedge cutting, mowing, levelling and shifting bulky, heavy loads and much more.
With Avant 750 lifting and handling heavy loads is an easy job. Working with the machine is comfortable and logical. Cockpit ergonomics is well thought out and all controls are well positioned. Quick attach system makes changing of attachments very fast and easy allowing to mount either on the front of the machine or on the rear adding to the performance of the machine considerably.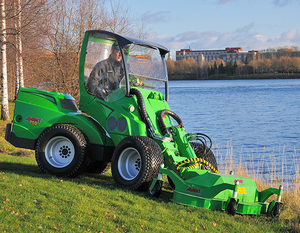 Your recently viewed products:
"Sorry no products found"