Avant 420 loader is extremely compact and economical machine with a width of 960 mm to 1095 mm which makes it suitable to use where working space is limited or narrow. Excellent unrestricted 360º vison and ergonomic controls in the cockpit ensure full operational control over the machine and its movements.
420 loader is very stable, easy and logical machines that guarantees smooth and exact driving as well as exact control both on low and higher driving speeds. It has enough power to tackle the jobs all year round with its high functionality. Lift capacity allows handling weights of 650 kg and max lifting height up to 2750 mm.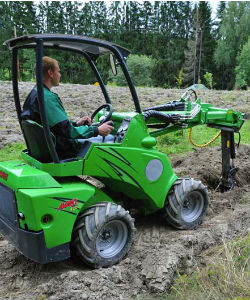 Your recently viewed products:
"Sorry no products found"