Efficient multi purpose bucket - can be used as a normal bucket as well as a dozer blade, leveller or grab. The front part of the bucket opens with two hydraulic cylinders, located on the back side of the bucket, which enables dozing, levelling and picking of stones, tree stumps etc. Another benefit of the opening bottom is that the bucket can be emptyed at a higher level by opoening the bottom instead of tipping the bucket edge down. The 4 in 1 bucket come inn various sizes:
1100 mm
1280 mm
1400 mm
Note. this bucket is most suitable for the 300, 400, 500, R, 600 and 700 series. It is also avalibale with or without teeth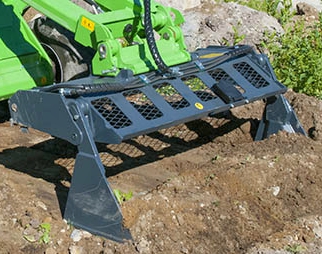 Your recently viewed products:
"Sorry no products found"